Flow Arts Institute | www.flowartsinstitute.com/shop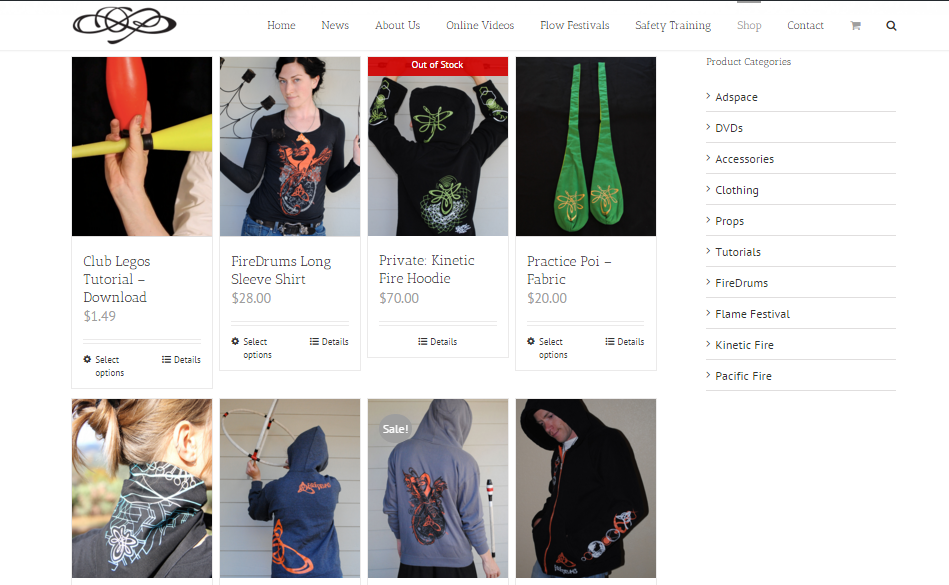 Use code CYBER to receive 15% off entire store!
---
The Rope Dart Academy | www.ropedarts.com
[fusion_builder_container hundred_percent="yes" overflow="visible"][fusion_builder_row][fusion_builder_column type="1_1″ background_position="left top" background_color="" border_size="" border_color="" border_style="solid" spacing="yes" background_image="" background_repeat="no-repeat" padding="" margin_top="0px" margin_bottom="0px" class="" id="" animation_type="" animation_speed="0.3″ animation_direction="left" hide_on_mobile="no" center_content="no" min_height="none"]
15% off your entire Shopping Cart | Enter code at checkout RDACADEMY
---
Firetoys.com | www.firetoys.com
Firetoys.com is offering 20% off (almost) everything over the Black Friday / Cyber Monday weekend. Use the code CyberBlack at check out. There are a few excluded products noted at the end of the product descrtiption.
---
Forged Creations | www.etsy.com/shop/ForgedCreations
Free Domestic shipping on all orders. Cyber Monday only, November 30th. Enter code FREESHIP15
---
Dawn Dreams Circus | www.dawndreams.ca
$15 this weekend only. Foundations of Contact Juggling: Body Rolling. Bringing you through the basic concepts of contact juggling from a few balance points, the concept of an isolation to beginner chest rolls. 
---
Perkulator | www.facebook.com/itstimefortheperkulator
Skype lessons with Perkulator are typically $40/hr are now offered for $30/hr. Send a message requesting Skype lesson including "SPARKLY HOOP GODDESS" to access 25% discounted rate.
---
Ravenbane's FireCraft | www.ravenbanesfirecraft.com
One day only! 10% off all products using code FCCM10 at checkout (excludes shipping).
---
Flowtoys | www.flowtoys.com
Free worldwide shipping for all web orders from 27-30 November 2015, Black Friday through Cyber Monday (Pacific Standard Time). Orders will also come with awesome freebies – stickers, postcards, charging accessories, some we're still laser cutting, so no details on those yet 🙂 Use the code freeship2015 at checkout. 
---
The Elixir Lab | https://www.etsy.com/shop/TheElixirLab
U
Use the code CYBERMONDAY to get 30% off your order! One Day only!
---
3rd Earth Fireproof | www.3rdearthfireproof.com
Simply visit the Etsy store and when entering payment, type in FAIsale where it says "redeem a gift card" to receive 15% off the entire store! This is a rare opportunity.
This Dragonfly and Elven Shrugs are a dramatic statement piece that is also extremely warm, comfortable and fire safe. Both designs have sculptural fantasy details like shoulder fins, pointed hood and a big hood with a point on the back and widow's peak in the front. For stability, the hood has a hair clip sewn in, so you can spin without worrying about the hood falling. The neckline has an adjustable metal latch to make it as tight as you want! The Dragonfly shrug has coat tails, the Elven style does not.
The black sleeves are made from CarbonX and give you the highest level of flame protection for you arms, where you need it most). it provides an extraordinary level of protection against direct flame and extreme heat. Inherently flame resistant, it will not burn, melt, or ignite. Even after intense exposure, they maintain their strength and integrity and continue to protect. Unlike Kevlar®, it will not fade and has a soft, cotton like texture.
The red and blue sleeves are made from Stretch Nomexr®: These fibers have high tensile strength relative to its lightweight. In addition, they are flame-resistant, and unlike nylon, polyester and polyethylene, it will not melt.
The body Fabric is 100% Cotton fleece (the weight of a heavy sweatshirt). The fabric is made of natural fibers so it takes longer to ignite, burns slowly and will not melt onto your skin.
---
Slit | https://www.etsy.com/shop/slitweave
 SlitWeave offers yoga clothes, braided leggings and more in an apocalyptic style. For Cyber Monday, Jozette will be offering a 33% discount store wide! Use the code THANKFUL33 at checkout.
---
ResplendentFlames | www.facebook.com/Resplendent.Flames.Entertainment
Skype lessons with Matthew SoSticky! Classes normally cost $45/hr. Email resplendentflames@gmail.com with the subject line Cyber Monday Classes and receive $5 off or 3 for $105! Student sends in video after scheduling time. Sticky will review video and take notes. We then go over any issues that seen in the video as well as cover any tech along the way. Read reviews.
---
DrexFactor | www.drexfactor.com
The DrexFactor Store has expanded! Now offering umoja contact poi heads from LanternSmith, HDPE practice fans from Doodle, and practice double staves–all 10% off with your Cyber Monday promo code CM2015!
---
KittyBear Hoops | https://www.etsy.com/shop/kittybearhoops
10% off all custom taped, reflective & color polypro Fire Hoops.
10% off custom, removable Kitty Wicks – 4, 5, and 6 wick sets. No coupon code needed! Prices will be automatically dropped Black Friday through Cyber Monday only [Nov 27-30, 2015]. Simply visit kittybearhoops.etsy.com, look for the shop sections with *** and shop your heart out.
---
Spin-ballS | SpinBallsPoi.com
15% off our already low prices for anything on our website until the end of the year. Use the code HOLIDAY2015. Led Poi, Sock Poi, Tail Poi or a Whole Shebang of all our poi.
---
CampFire | www.campfireretreat.com
CampFire is offering a limited time Holiday Bundle Package. 4 tickets for $300. That's only $75 a ticket! Plus you get a free swag bag with some awesome CampFire merchandise. Tickets must be purchased in a block of 4 to receive this deal.
---
Ninja Pyrate | http://ninjapyrate.com/
$10 Off Carbon Fiber ConTech Training Swords!
$15 Off Carbon Fiber ConTech Training Staffs!
$99 Contact Fire Staffs (remaining aluminum stock)
20% Off Patch Pants and Vests! This Weekend only on the SALE section of their website.
---
Fire Mecca | www.firemecca.com
15% off EVERYTHING in the shop for just 24 hours. Use the code CYBER at checkout.
---
SoulMind Studios | www.soulmindstudios.com
We will sell any custom design stickers at $2 per piece for 25+ 3.5″ stickers. These unique wooden stickers are designed and fabricated using our laser engraving machine in Emeryville, California. You can use them to enhance all sorts of notebooks, laptops, water bottles, signs and many other surfaces. With one of these, it will be easy to identify what belongs to you and each one comes in a large variety of styles and sizes. You can use this code to for custom designs as well as our predesigned stickers, email us directly info@soulmindstudios.com: CUSTOMIZEYOURLIFE. We will open up the etsy stickers on Monday only if you want to link directly to our store without the use of the code. We will remove the listing on Tuesday so it is only up for Cyber Monday.
---
Fearless Ringleader | www.fearlessringleader.com/gear/
Artisan made leather designs, hip belts and pouches with fully adjustable belts, hidden pockets and top quality leather. Select pouches have hand blown glass beads on our unique gravity closures.
**For every order placed Monday, receive 15% off your purchase. Use the code FLOWARTISTMONDAY
---
To help spread joy and happiness this holiday season, Dark Monk is giving away free clown noses with every order (while supplies last). We will package a smile in every box.
---
Harmonic Threads  | www.harmonicthreads.etsy.com
---
FLAME Festival | www.flamefestival.com
Only 44 Early bird tickets available at $90 a ticket. Early Bird tickets end Jan 5th or until sold out. Get em while they're hot!
[/fusion_builder_column][/fusion_builder_row][/fusion_builder_container]